Product Description
1. Monocrystalline silicon solar panel: Monocrystalline silicon solar panel is one of the most common solar panels. It is made of monocrystalline silicon with high efficiency and excellent performance. Monocrystalline silicon solar panels are usually blue or black, with long service life, but high cost.
2. Polysilicon solar panel: polysilicon solar panel is made of polysilicon, its efficiency is slightly lower than monocrystalline silicon solar panel, but its cost is lower. The battery panel is usually dark blue or black
3. Organic solar panels: Organic solar panels are made of organic materials, with lower efficiency than other solar panels, but lower cost. These panels are usually brown or gray
Product Feature
1)High power output
Up to 540W front power and 21.1% module efficiency with half-cut and
 (Multi Busbar) technology bringing more BOS savings
• Lower resistance of half-cut and good reection eect of  ensure highpower
2)High reliability
• Ensured PID resistance through cell process and module material control
• Resistant to salt, acid and ammonia
• Certified to 5400 Pa positive load and 2400 Pa negative load
3)High energy generation
• Excellent IAM and low light performance validated 
process and module material optimization
• Lower temp coefficient (-0.36%) and bring more energy leading to
lower LCOE
• Better anti-shading performance and lower operating temperature
4)lower hot spots
Reduce the hot spots and minimize panel degradation
Product Application
Product Advantages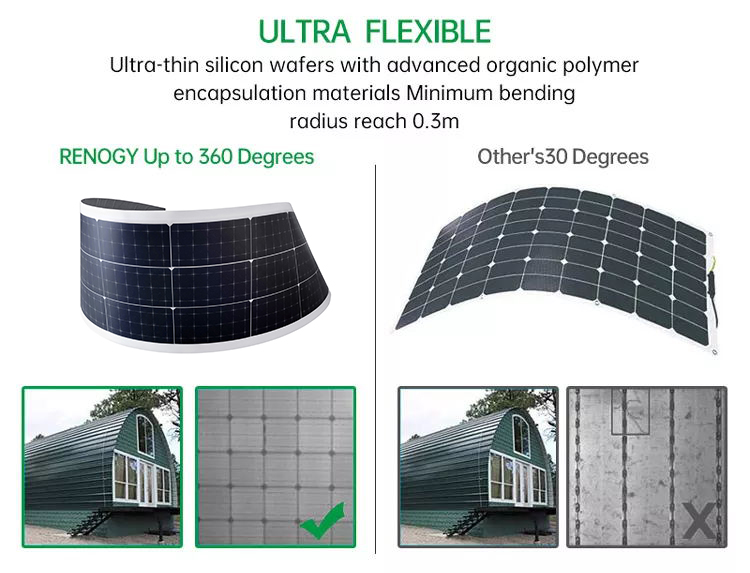 Flexible, and can be properly bent to use a wider range of applications.
High conversion efficiency, good output efficiency, low light effect, light weight, easy to carry, strong applicability.
With chip, can be used for car ,home, boat, motorcycle, etc.
View full details